Sculpture by the Sea 2012
It's an annual tradition now, to view the sculptures lining the walk between Bondi and Tamarama.
This year we got up early to beat the packed crowds down to the beach and sneak in some photos before it became impossible to move along the walkway let alone take a decent shot. The weather was rather overcast though which was a shame.
Among my favourite artworks this year were the bottle bobbing in a sea of marble, the 'paper' boats and the road-sign sand rakes. Geoff loved the bamboo wind-chime forest and I have to say I agree with him, it was mesmerising and beautiful.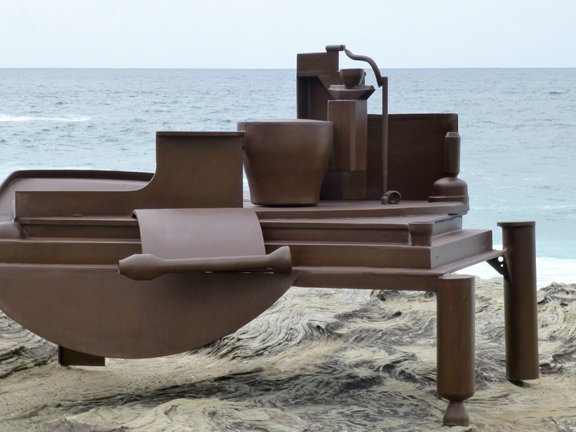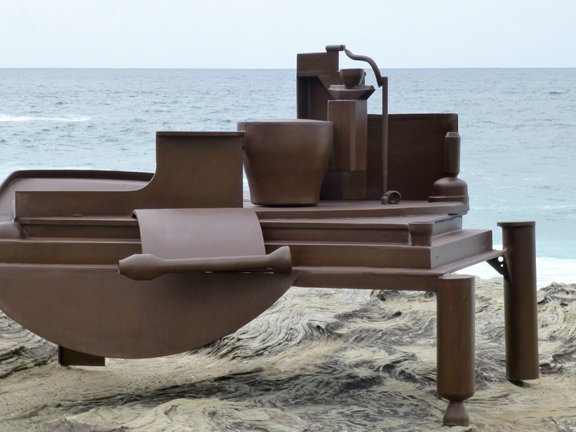 ... and finally here's a selection from all the rest of what was on offer this year.
It was interesting to see how the way people played with the rakes to make patterns around the other sculptures at Tamarama Beach framed them beautifully. We were there early in the morning though so the effect would most likely be lost in the peak crowds around lunchtime.
We noticed this year that there was also a number of artworks that required digital interaction via QR-code. Alas as we are both yet to get so-called smartphones these ones were rather lost on us.
There was also a number of the usual suspects, sculptor's who exhibit frequently and the usual number of head-scratching odd works and sculptures just begging to have kids crawl all over them.
Elizabeth Kelly
Check me out on pinterest to get a feel for what else inspires me. http://pinterest.com/elkprints/